About Our Work
The Farm to School Coalition of North Carolina (F2SCNC) brings together a dedicated group of farm to school (F2S) stakeholders that will collaborate to expand and strengthen farm to school initiatives across the state.
Strategic Plan -- Farm to School Coalition of NC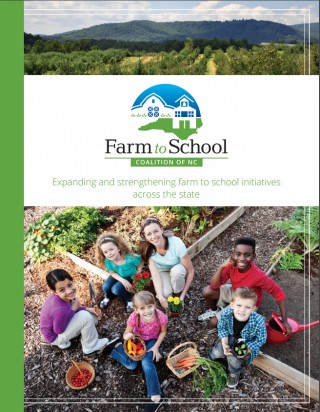 ​Many partners throughout NC helped in the development of this strategic plan which was released in 2015. The plan includes an introduction, vision and mission, what farm to school in NC looks like, goals, how you can get involved and a history of the Coalition.
Mission and Vision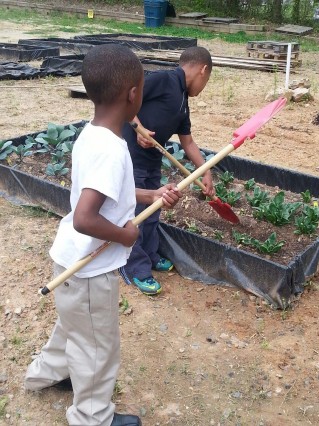 Vision
The F2SCNC forecasts a farm to school effort in every North Carolina county. We foresee young people who participate in F2S will benefit from evidence-based activities. In addition, by engaging young people, local farmers, school systems, and whole communities in the growing, distributing and promoting of healthy foods, we envision a vibrant and robust food system whereby everyone affiliated with the school community has knowledge of and access to locally produced, nutritious foods, resulting in healthier citizens, communities and economies.
Mission
The Farm to School Coalition of NC seeks to expand and strengthen farm to school initiatives across the state through network development, advancement, and education.
Values and Guiding Principles
The statewide Farm to School Coalition of NC supports the
following as part of a high-performing team. Together we will:
Network and build relationships

Coordinate and collaborate

on farm to school efforts

Respect multiple approaches

Communicate clearly via diverse methods and strategies

Address gaps and avoid duplication in farm to school

programming

Share farm to school best practices

Improve equitable access to the components of farm to

school

Increase the consumption of locally grown healthy food by our students
Coalition Goals
Goal 1: Grow the Network
Encourage networking and relationship building among farm to school stakeholders
Goal 2: Develop and Share Resources
Support and encourage resource development and capacity building for farm to school in North Carolina.
Goal 3: Assess the Impact
Stakeholders and partners will strengthen data collection and identification of common measures to demonstrate the impact of farm to school in North Carolina.
Goal 4: Increase Awareness
Increase awareness and understanding of farm to school benefits and successes in North Carolina.
Goal 5: Develop the Coalition
Develop a sustainable Farm to School Coalition of North Carolina that serves the statewide movement.
Nutritional Education
Teaching the value of good nutrition
Turnip greens yarrow ricebean rutabaga endive cauliflower sea lettuce kohlrabi amaranth water spinach avocado daikon napa cabbage asparagus winter purslane kale. Celery potato scallion desert raisin horseradish spinach carrot soko. Lotus root water spinach fennel kombu maize bamboo shoot green bean swiss chard seakale pumpkin onion chickpea gram corn pea. Brussels sprout coriander water chestnut gourd swiss chard wakame kohlrabi beetroot carrot watercress. Corn amaranth salsify bunya nuts nori azuki bean chickweed potato bell pepper artichoke.