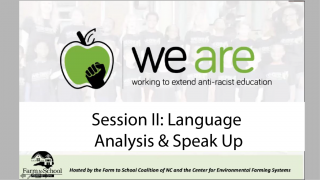 Language Analysis & Speak Up Overview
Please join us for a virtual summer series on Racial Equity in Farm to School. Hosted by The Farm to School Coalition of NC, this free, 5 session, 120 min workshop series will be led by a team from we are (www.weare-nc.org). This year's series will be structured to allow for extended learning for past attendees while remaining accessible for new participants. Join us!
Training Objectives
How do our communication preferences, styles, patterns disrupt or support systemic racism?
How can we better prepare ourselves and our community members to speak-up and challenge biased language and actions?

How can we prepare to respond to push back when we do Speak Up?
For more information, contact:
Kirsten Blackburn
Email