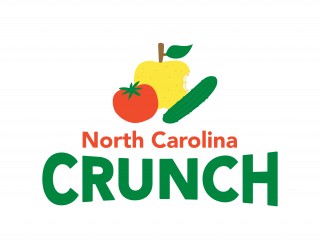 NC Crunch 2023
Annual NC Crunch events offer kids and adults an opportunity to taste and learn about locally-grown NC produce as well as honor those who contribute to feeding our kids and communities. Join the state of North Carolina in celebrating Farm to School and Early Care and Education Month by crunching into a locally grown fruit or vegetable on Wednesday, October 18, 2023 at noon or any time during the month of October that works for you. The NC Crunch is also a great opportunity to thank all those involved in feeding our communities. This event is about uniting together to celebrate North Carolina agriculture, locally grown fruits and vegetables, and healthy eating. Participants of all ages are invited to crunch with their schools, early care and education sites, organizations, families, or communities. Help us reach all 100 counties and 500,000 kids and adults with the NC Crunch!
The North Carolina Crunch promotes healthy eating and supports farm to school, farm to early care and education (ECE), and other local food initiatives throughout the state. It's also a fun and educational way to connect food and agriculture to all kinds of classroom curricula – from science to art!
Lots of North Carolina-grown fruits and vegetables are available in season in October, like apples, beets, cabbage, cucumbers, greens, mushrooms, tomatoes, snow peas, lettuce, pears, sweet potatoes, raspberries, radishes, pumpkins, or turnips. Visit this North Carolina Produce Availability chart for a full list of seasonal availability for North Carolina.
Ready to Start Planning Your Crunch Event?
We've created a Crunch Guide with information on sourcing your produce, curriculum connections, social media and press release templates to help you share your Crunch with the local community, and more. This year's Crunch Guide also includes tips for Crunching during post-COVID-19.
Click here to register for the 2023 Crunch! You will receive an email with a link to download the 2023 Crunch Guide upon submission of the form. Click here for the 2023 one page Crunch Flyer!
PLEASE NOTE: The registration form is a Google Doc. If you cannot access it, please contact the Growing Minds team at (828) 236-1282 to sign up.