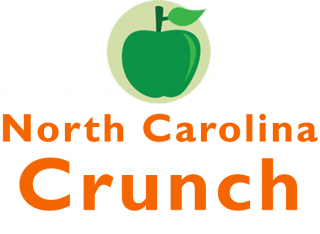 The NC Crunch, co-hosted by the Farm to School Coalition of NC and the NC Farm to Preschool Network and organized by the Growing Minds program at ASAP celebrates agriculture, nutrition, and farm to school activities for Farm to School and Early Care and Education Month in October.
Annual NC Crunch events offer kids and adults an opportunity to taste and learn about locally-grown NC produce as well as honor all those who contribute to feeding our kids and communities–from farmers, farmworkers, and food hub distributors, to School and Early Care Nutrition professionals, educators, garden coordinators, bus drivers, and transportation professionals. It's also a fun way to connect food and agriculture to all kinds of classroom curricula – from science to art. You will receive an email with a link to download the 2022 Crunch Guide upon submission of the form.
Print your own NC Crunch stickers
Download a PDF template for printable "I crunched!" stickers (use these labels: Avery Template Number 5293, 1 2/3″ round labels, 24/sheet).
Promote your NC Crunch event on social media
We've created new social media graphics that you can download and share to help promote your NC Crunch event. These graphics have been created to help with nutrition education and promotional outreach for the NC Crunch.
A photo frame is available for your social media news feed to let everyone know that you or your family, class or group crunched into North Carolina grown produce and you appreciate our North Carolina farm to school heroes. In addition, two general NC Crunch graphics as well as 14 graphics on seasonal produce grown in our state are available.
Please share on social media how you are celebrating the #NCCrunch and recognizing our #farmtoschoolheroes. Tag the @F2SCoalitionNC and @NCFarmtoPreschool Network with your posts. We look forward to seeing your photos and activity posts. Click here to access all of these social media graphics.
Anyone can participate in or host an NC Crunch event in your own community!