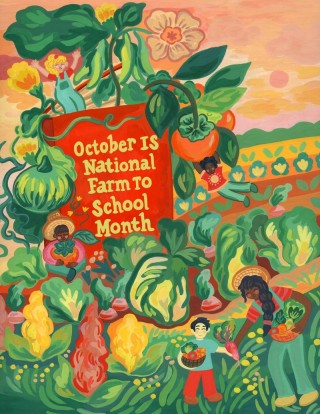 October is National Farm to School, a great time to celebrate all of farm to school heroes! You can learn more about how to celebrate by using the National Farm to School Network's Celebration Toolkit.
October is also an opportunity to celebrate the North Carolina Crunch. The NC Crunch, co-hosted by the Farm to School Coalition of NC and the NC Farm to Preschool Network and organized by the Growing Minds program at ASAP celebrates agriculture, nutrition, and farm to school activities for Farm to School and Early Care and Education Month.
Annual NC Crunch events offer kids and adults an opportunity to taste and learn about locally-grown NC produce as well as honor all those who contribute to feeding our kids and communities–from farmers, farmworkers, and food hub distributors, to School and Early Care Nutrition professionals, educators, garden coordinators, bus drivers, and transportation professionals. It's also a fun way to connect food and agriculture to all kinds of classroom curricula – from science to art.