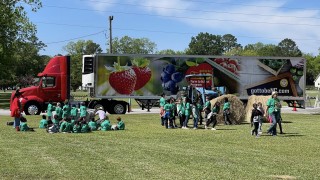 Craven County School Nutrition Celebrates Farm to School!
Craven County School Nutrition hosted its annual Farm to School Week last week! Students learned more about local food, culinary arts, and farming. Their menu also consisted of North Carolina-grown produce, grains, and protein! You can see all the fun Farm to School activities on Craven County School Nutrition's Facebook page.
Craven County School Nutrition Facebook page.
Wilson County "Got to Be NC" Farm to Table Celebration!
Wilson County Schools held a "Got to Be NC" Farm to Table Celebration on May 10. Students, staff, and special guests enjoyed a lunch menu in the Rock Ridge Elementary school café featuring items grown and harvested from a variety of Wilson County Farms - Patty Melt Sandwich (Beef from Sullivan Farms, Lucama), Baked Sweet Potatoes with Cinnamon and Sugar (Sullivan Farms & Fresh Pik Produce, Wilson), Fresh Veggie Cup: Cucumbers, Grape Tomatoes, Yellow Squash (Glover Farms, Bailey), and Strawberries (Fresh Pik, Wilson). The lunch menu was served district-wide. Additional activities were held throughout the week to educate students about the importance of supporting local agriculture and the vital role of farms in food production.
Wilson County School Nutrition Facebook page.
Pamlico County Farm to School Week!
Pamlico County Schools sourced locally-grown produce and proteins from North Carolina farmers, including McCoy Cattle Farms, Tidewater Grain Company, Brasstown Beef, Bridgeton Poultry, Cattle Farms, R&H Produce, and many others to celebrate its second Farm-to-School Week, May 8-12. The week was organized by the Child Nutrition Department in collaboration with Pamlico Farm Bureau, Pamlico County Middle School Future Farmers of America, Small Grain Association, The Dairy Alliance and the N.C. Department of Agriculture & Consumer Services (NCDA&CS).