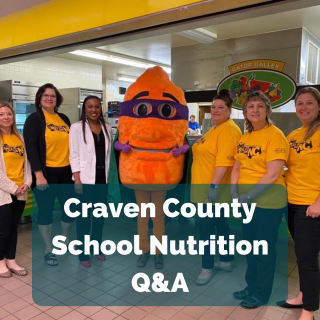 Q: What prompted you all to have a week-long Farm to School celebration?
A: I lived in Macon Georgia and worked for a large school district where I was the Registered Dietitian. We had a 5 year grant to offer a week's menu that represented products grown in Georgia. We only were able to do it for 1 school per year for the 5 years. So I used that experience and decided to "go big" and offer that same opportunity to all the students in my school district. Though we did not have a grant, I reached out to our local farm bureau and got connected with others and received funding mainly for the education piece for the week. School Nutrition funds purchased all the food.
Q: Why is farm to school important to your program?
A: Students need to be educated on where their food comes from and the best way to educate them is by showing them and giving them opportunities to eat locally. Many locations in Craven County are rural farming communities. We have many of our students that are children of farmers. (We actually purchased items for Farm to School Week from some of those farmers.) No better way to build community engagement than by showing support to our own community.
Q: What advice do you have for other districts and schools that want to host their own farm to school celebrations?
A: Start as small as you would like and let that vision take you to where it leads. It does not have to be the entire menu or the entire district. However small you choose to start, you are making a difference. It would not hurt to get some help as well. Call the North Carolina Department of Ag, they deliver Farm to School items weekly to school districts and they are a good resource for getting connected with farmers across NC.
Q: Throughout the school year, how else does your program engage in farm to school efforts?
A: We participate in the North Carolina Department of Agriculture Farm to School Program. We usually have a few weekly menu options that feature local foods. I also serve on the North Carolina Farm to School Advisory Board with NCDA.