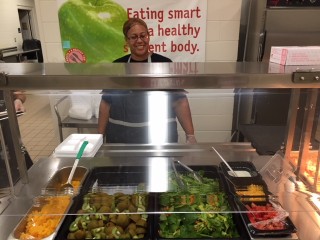 Stop by any cafe to watch School Nutrition Professionals prepare healthy meals for students–all while adhering to strict nutrition standards, navigating student food allergies, and offering service with a smile and you'll see they are true heroes! Yearly, we celebrate School Nutrition Hero Day to lift up our #NCSchoolNutritionHeroes and to showcase what a difference School Nutrition Professionals make in the lives of every child who comes through the cafe.
In North Carolina, we celebrate School Lunch Hero Day as School Nutrition Hero Day because our School Nutrition Heroes serve more than lunch. Our NC School Nutrition professionals provide school breakfast, school lunch, after-school snacks and supper meals, and summer meals. In addition, they offer nutrition education, promote healthy choices and school wellness, connect students and schools with local agriculture and producers for farm to school, and support academic achievement and social-emotional learning for students.
The Carolina Hunger Initiative is collecting stories about NC School Nutrition Heroes to share as part of an online hall of fame. Please take 5 minutes to fill out their form and tell them who your School Nutrition Hero is, and what makes them SUPER. On May 5, they will share the collection of heroes with the state for School Nutrition Hero Day!