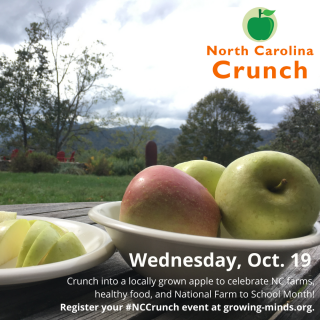 This October, join schools, child care centers, and organizations across North Carolina in celebrating National Farm to School Month by crunching into NC-grown produce. The 2022 NC Crunch will take place on Wednesday, October 19th! Register today and get your Crunch planning underway! Participants of all ages are invited to crunch with us.
NC Crunch promotes healthy eating and supports farm to school and other local food purchasing initiatives throughout the state. It's also a fun way to connect food and agriculture to all kinds of classroom curricula – from science to art.
Click here to register for the 2022 NC Crunch! You will receive an email with a link to download the 2022 Crunch Guide upon submission of the form.