N.C. Jr. Chefs Compete in First-Time Virtual Cook-Off
Four high school teams competed in the state's first-ever virtual North Carolina Jr. Chef cook-off this spring to create unique school lunch entrée recipes.
N.C. Jr. Chefs Compete in First-Time Virtual Cook-Off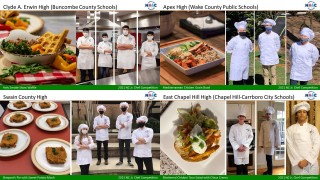 Clyde A. Erwin High from Buncombe County Schools won first place with their Holy Smoke Show Waffle. The "Waffle Warriors" said they created their recipe to elevate their schools' game for Taco Tuesday all the way to Waffle Wednesday as an innovative variation on the typical taco. The school lunch entrée created by the "Waffle Warriors" included a homemade cornbread, cheddar, and jalapeno waffle; local Brasstown beef sautéed with tomatoes and spices; chilled, diced, roasted sweet potato; spicy kale chips; and a drizzle of honey.

Apex High from Wake County Public Schools won second place and a gold medal for their on-trend, flavorful, vegetable-packed Mediterranean Chicken Grain Bowl. With a sweet spin on an old favorite, Swain County High won third place and a silver medal for their Shepard's Pie with Sweet Potato Mash. East Chapel Hill High from Chapel Hill-Carrboro City Schools won fourth place and a silver medal for their Blackened Chicken Taco Salad with Citrus Crema, a new twist on a popular favorite.

The Career and Technical Education students, enrolled in Culinary Arts and Hospitality, Food and Nutrition, or Food Science and Technology courses, were challenged to work with their Family and Consumer Sciences teachers and School Nutrition directors to develop a creative recipe for a school lunch entrée that met a list of requirements: complied with School Nutrition Program standards, included at least two North Carolina-grown products and one USDA Foods item, is replicable by School Nutrition Programs, and appeals to student taste preferences.
For the competition, teams applied with their recipe ingredients and instructions, recipe photo, nutrient and cost analysis, time management plan for preparing the recipe within the 90-minute time limit, and a video of their team preparing and plating their recipe. The Jr. Chefs also participated in a live interview to present their culinary creations to a panel of evaluators. Teams were evaluated on their recipe development skills, food preparation, marketing, public presentation, organization, and use of locally grown products. Teams were required to follow COVID-19 safety guidelines from the N.C. Department of Health and Human Services, recommendations from their local health departments, guidance from the N.C. Department of Public Instruction and their local schools or districts.

N.C. Jr. Chef finalist teams were recognized during a virtual ceremony as part of the N.C. Family, Career and Community Leaders of America (NCFCCLA) State Leadership Conference. The students received their own N.C. Jr. Chef coats and hats, signaling their first step into the world of culinary competition. In addition, they received certificates and medals based on team scores. First, second and third-place teams received plaques to display in their schools, and the first-place team will have the honor of hosting the competition trophy until the next cook-off. Sullivan University in Kentucky will offer scholarships to the student members of the top three teams.

The N.C. Jr. Chef Competition was planned by the School Nutrition Division and Career and Technical Education Division of the N.C. Department of Public Instruction in partnership with the N.C. Department of Agriculture & Consumer Services, N.C. Farm to School Program, North Carolina Family, Career and Community Leaders of America (NCFCCLA) and the Farm to School Coalition of North Carolina. For more information, visit the NCDPI, School Nutrition Division website.